Bridges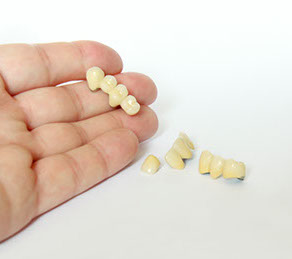 One option for replacing 1-2 missing teeth is a bridge.
A bridge consists of a false tooth, which is permanently cemented to adjacent teeth on either side of it. Typically these 2 adjacent teeth holding in the false one are prepared for crowns. This unit (consisting of a false tooth and two crowns on either side) is custom made by the dentist and a dental lab to precisely fill the area of the missing tooth. The bridge is also matched in shade to the surrounding teeth, for a completely natural appearance.
The goal of a bridge is to improve chewing function (by replacing the lost tooth), improve cosmetics, and to strive for excellent longevity (possibly 20 years).
Bridges are usually covered by most dental insurance plans.
Some of the disadvantages of placing a bridge include modifying and losing some of the tooth structure from the adjacent teeth, and the challenge of cleaning underneath the false tooth.